Where They Found Her (Large Print / Paperback)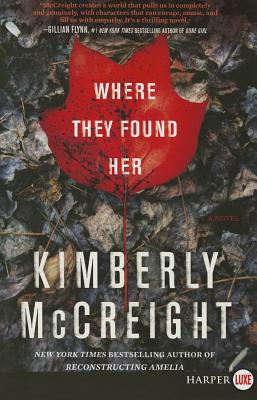 Staff Reviews
---
Where They Found Her by Kimberley McCreight  is a gripping tale about a suburban town and the death of a newborn.  Molly Sanderson retreated to Ridgedale in order to heal from the loss of her child.  She never once imagined that she would be the journalist covering the murder of a newborn baby.  Yet, now that she has this break she is determined to follow through and find out what this small town is really hiding.
I loved this book (although I should also mention that I also loved Reconstructing Amelia).  McCreight does an amazing job of  weaving other forms of writing into her novels, for this book she created the newspaper's website.  Adding in the website allowed the reader to get a better understanding of the town and gives the story a unique twist.  Additionally, this story is told through three different women, which really gives you a larger picture of the overall plot and also made you want to try to piece everything together.  A great psychological thriller with plenty of twists and turns and small town drama.
— Jody
May 2015 Indie Next List
---
"The subject matter of this novel is pretty dark and chilling, but McCreight has done an excellent job of weaving a haunting story of expectation and loss. When a university town is rocked by infanticide, everyone becomes a suspect. A newbie reporter for the local paper is assigned to cover the story, but a traumatic experience in her past makes it hit a little too close to home. With everyone in town under a microscope, past wounds are reopened and long-buried secrets are revealed. This is a riveting story that kept me guessing until the end."
— Teresa Steele, Old Firehouse Books, Fort Collins, CO
Description
---
An idyllic suburban town.
A devastating discovery.
Shocking revelations that will change three lives forever.
At the end of a long winter in well-to-do Ridgedale, New Jersey, the body of a newborn is found in the woods fringing the campus of the town's prestigious university. No one knows the identity of the baby, what ended her very short life, or how she came to be found among the fallen leaves. But for the residents of Ridgedale, there is no shortage of opinions.
When freelance journalist and recent Ridgedale transplant Molly Sanderson is unexpectedly called upon to cover the disturbing news for the Ridgedale Reader--the town's local paper--she has good reason to hesitate. A severe depression followed the loss of her own baby, and this assignment could unearth memories she has tried hard to bury. But the disturbing history Molly uncovers is not her own. Her investigation reveals a decades-old trail of dark secrets hiding behind Ridgedale's white picket fences.
Told from the perspectives of three Ridgedale women, Kimberly McCreight's taut and profoundly moving novel unwinds the tangled truth behind the tragedy, revealing that these women have far more in common than they could ever have imagined: that the very worst crimes are committed against those we love. And that--sooner or later--the past catches up to all of us.