Blood Infernal: The Order of the Sanguines Series (Hardcover)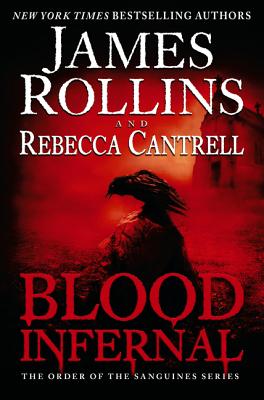 Description
---
In a masterpiece of supernatural mystery and apocalyptic prophecy, New York Times bestselling authors James Rollins and Rebecca Cantrell bring to a thunderous conclusion their epic trilogy of novels set between the worlds of shadow and light, between salvation and damnation, where the very gates of Hell must be shattered to discover the true fate of humankind in…
Blood Infernal
As an escalating scourge of grisly murders sweeps the globe, archaeologist Erin Granger must decipher the truth behind an immortal prophecy foretold in the Blood Gospel, a tome written by Christ and lost for centuries: The shackles of Lucifer have been loosened, and his Chalice remains lost. It will take the light of all three to forge the Chalice anew and banish him again to his eternal darkness. With the Apocalypse looming, Erin must again join forces with Army Sergeant Jordan Stone and Father Rhun Korza to search for a treasure lost for millennia. But the prize has already fallen into the hands of their enemy, a demon named Legion, before whom even the walls of the Vatican will fall.
The search for the key to salvation will take Erin and the others across centuries and around the world, from the dusty shelves of the Vatican's secret archives to lost medieval laboratories, where ancient alchemies were employed to horrific ends. All the while, they are hunted, besieged by creatures of uncanny skill and talent. As clues are dug free from ancient underground chapels and found frozen in icy mountain caverns, one that will destroy not only her, but all she loves. To protect the world, Erin must walk through the very gates of Hell and face the darkest of enemies: Lucifer himself.
With The Blood Gospel, the first novel in the Order of the Sanguines series, James Rollins and Rebecca Cantrell combined science, myth, and religion to introduce a breathtaking world where miracles hold new meaning and the fight for good over evil is far more complicated than we ever dreamed. And now, in this epic conclusion to the Sanguines trilogy, Blood Infernal, they take us to the very pit of Hell itself, making us peer into the abyss and face our greatest fears, to answer the ultimate question: What price will we pay for true salvation?
About the Author
---
James Rollins is the author of international thrillers that have been translated into more than forty languages. His Sigma series has been lauded as one of the "top crowd pleasers" (New York Times) and one of the "hottest summer reads" (People magazine). In each novel, acclaimed for its originality, Rollins unveils unseen worlds, scientific breakthroughs, and historical secrets—and he does it all at breakneck speed and with stunning insight. He lives in the Sierra Nevada mountains.
New York Times bestselling thriller author Rebecca Cantrell's novels include the award-winning Hannah Vogel mystery series, the critically acclaimed YA novel iDrakula, which was nominated for the APPY award and listed on Booklist's Top 10 Horror Fiction for Youth, and The World Beneath, the first book in an exciting new series and the winner of an International Thriller Writer award. She, her husband, and son currently live in Berlin.
Praise For…
---
"Imaginative…an almost endless series of riddles and clues, battles and betrayals…before a climactic battle and a surprise ending."
— Publishers Weekly on BLOOD INFERNAL

"Blood Infernal is equal parts horror and action with a heavy dose of superstition and science thrown in for good measure, all adding up to a breathless and bracing book, as scary as it is scintillating."
— Providence Journal on BLOOD INFERNAL

"James Rollins and Rebecca Cantrell have created a series that brings in religious history and fantasy to a new level with the Order of the Sanguines."
— Fresh Fiction on BLOOD INFERNAL