Dance of the Bones: A J. P. Beaumont and Brandon Walker Novel (Hardcover)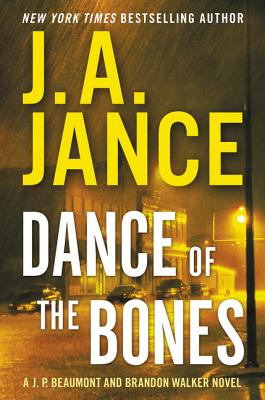 $26.99
Usually Ships in 1-5 Days
Staff Reviews
---
Dance of the Bones is J. A. Jance's latest novel featuring J.P. Beaumont and Brandon Walker. The Last Chance (TLC) group contacts retired Detective Walker regarding a 30 year old case involving the murder of Amos Warren. All of the evidence had pointed Walker toward Amos' son who was arrested, tried and jailed. Now the case is being re-opened and there is pressure for them to find the "real" killer. The search leads Walker to reach out to Seattle investigator J.P. Beaumont. However, things only become more complicated when someone close to Walker is targeted. The cases are connected, the two just have to figure out how.
As always, Jance packs her book with action and suspense. This book was captivating and hard to put down. I really enjoyed how she wove in the Tohono O'odham lore in the story. It was interesting learning how some stories can only be shared at a certain time of year. I also enjoyed seeing how Walker and Beaumont interact with each other. If you have only read the Beaumont series or the Walker family books, you will still enjoy this novel. If you haven't read both series this would be a great time to start.
— Tricia
Description
---
J. P. Beaumont and Brandon Walker, two of New York Times bestselling author J. A. Jance's most acclaimed series characters, join forces for the first time in one of the most suspenseful works of her career.
Years ago, Amos Warren, a prospector, was gunned down out in the desert and Sheriff Brandon Walker made the arrest in the case. Now, the retired Walker is called in when the alleged killer, John Lassiter, refuses to accept a plea deal that would release him from prison with time served. Lassiter wants Brandon and The Last Chance to find Amos's "real" killer and clear his name.
Sixteen hundred miles to the north in Seattle, J.P. Beaumont is at loose ends after the Special Homicide Investigation Team, affectionately known as S.H.I.T., has been unexpectedly and completely disbanded. When Brandon discovers that there are links between Lassiter's case and an unsolved case in Seattle, he comes to Beau for help.
Those two cases suddenly become hot when two young boys from the reservation, one of them with close ties to the Walker family, go missing. Can two seasoned cops, working together, decipher the missing pieces in time to keep them alive?
Praise For…
---
"Jance satisfies fans of both series with an energetic plot resplendent with believable twists, leaving readers eager for Beaumont and Walker's next outing."