Dorothy Must Die (Hardcover)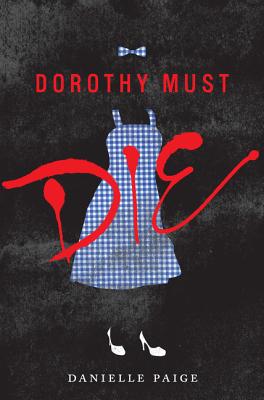 Email or call for price
Special Order - Subject to Availability
Other Books in Series
This is book number 1 in the Dorothy Must Die series.
Staff Reviews
---
Danielle Paige's book Dorothy Must Die is a dark and twisted  adaptation of the Wizard of Oz story.  Amy hasn't had the easiest life in Kansas.  She lives with her indifferent addict of a mother in the trailer park and is often bullied at school.  However she is making plans to leave her small town for bigger and better thins, she just didn't realize it would come so soon rather than later.  Sucked up into a huge tornado Amy finds herself dumped into the land of OZ - yep it really does exist.  This is the not the fun, bright and whimsical Oz that Dorothy found herself in.  This is the magic being brutally mined from the ground, flying monkey's being tortured, munchkins forced into indenture servitude Oz and Amy learns that Dorothy must die.
I really liked this story.  I am going to begin by saying, I am not a Wizard of Oz fan -  at all. However I was so intrigued by the name and premise that I had to read this book.   Paige's interpretations of all our beloved favorites like the cowardly lion, scarecrow and tinman were terrifying and imaginative.  I could feel the tinman's sharp knives and I could feel the lions teeth.  I found myself mesmerized by Paige's descriptions.  There were moments of  intense creepiness, but they were so well done that I had to keep reading.  I also liked Amy.  She is witty, sarcastic and has a little spunk about her.   A reluctant hero she might be, but once she decides to commit to the cause she does it with her whole being - regardless of the cost to herself.  If you are looking for a new read that is dark and edgy that also has great characters this is the book to read.
— Jody
Description
---
The New York Times bestselling first book in a dark new series that reimagines the Oz saga, from debut author Danielle Paige.
I didn't ask for any of this. I didn't ask to be some kind of hero. But when your whole life gets swept up by a tornado—taking you with it—you have no choice but to go along, you know?
Sure, I've read the books. I've seen the movies. I know the song about the rainbow and the happy little blue birds. But I never expected Oz to look like this. To be a place where Good Witches can't be trusted, Wicked Witches may just be the good guys, and winged monkeys can be executed for acts of rebellion. There's still a road of yellow brick—but even that's crumbling.
What happened? Dorothy. They say she found a way to come back to Oz. They say she seized power and the power went to her head. And now no one is safe.
My name is Amy Gumm—and I'm the other girl from Kansas. I've been recruited by the Revolutionary Order of the Wicked. I've been trained to fight. And I have a mission: Remove the Tin Woodman's heart. Steal the Scarecrow's brain. Take the Lion's courage. And—Dorothy must die.
About the Author
---
Danielle Paige is a graduate of Columbia University and the author of the New York Times bestselling Dorothy Must Die series. Before turning to young adult literature, she worked in the television industry, where she received a Writers Guild of America Award and was nominated for several Daytime Emmys. She currently lives in New York City.
Praise For…
---
"Readers of Baum's books will take special delight in seeing new twists on the old characters, and they will greet the surprise climactic turnabout with the smugness of insiders."
— Kirkus Reviews

"Dorothy Must Die is kind of the ultimate in girl-powered literature. You've got empowered heroines, sure, but Paige also conjures a formidable villainess in Dorothy and some manipulative lady revolutionaries. Here, women and girls are allowed to be anything. This really is a woman's world."
— Nerdist.com

"Gone are the days of rainbows, Lollipop Guilds and pretty much anything to sing about in a major key. For those willing to go on a quest with a heroine more attuned to our times than the Dust Bowl era, there's no place like it."
— USA Today

"Debut author Paige doesn't hold back in this fast-paced action novel. Give this cinematic upper-YA novel to fans of A. G. Howard's Splintered, Frank Beddor's Looking Glass Wars, and TV shows such as Once Upon a Time and Grimm."
— School Library Journal

"Paige delivers a solid, intense, and strange narrative that draws deeply on its source material."
— Publishers Weekly

"[Dorothy Must Die] strikes a similar tone to Marisa Meyer's Cinder series, with its blend of fantasy, humor, and horror, and it will likely inspire fans of that series to make their way to the Emerald City."
— Bulletin of the Center for Children's Books

"Paige has spirited readers back to The Wizard of Oz. It's a classic made more sinister."
— ALA Booklist

"For anyone who likes a good story turned on its head, Dorothy Must Die is a must-read."
— Huffington Post

"The Wizard of Oz as you've never seen it."
— Teen Vogue

"Paige's world building is intriguing and effectively augments the original world created by L. Frank Baum."
— ALA Booklist