Vanishing Girls (Hardcover)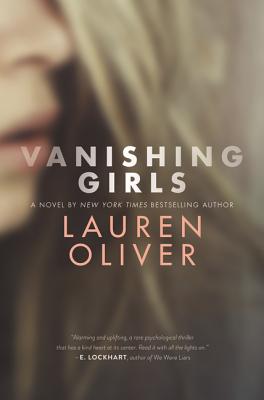 $18.99
Usually Ships in 1-5 Days
Staff Reviews
---
Vanishing Girls by Lauren Oliver is a fantastic read with layers of intrigue and suspense.  Driving home from a party one night Nick (Nicole) crashes her car leaving her sister, Dara, seriously injured and herself with amnesia.  On top of the horrendous accident Nick's parents have decided to get a divorce and her sister refuses to speak once she is out of the hospital.  Needless to say, it feels like everything in her life is changing and not for the better.  Nick tries to move forward, but all she really wants is to get Dara to start talking to her and to remember what really happened that caused her to run off the road.  Towards the end of summer Dara goes missing and Nick knows that she is the only one who will be able to find her.
Oliver captures the complicated sister bond so well: love, loyalty, jealousy, admiration, competition, and anger.  Nick's voice is authentic and real and before long you find yourself halfway through the book.  The underlying mystery around the car accident and then the disappearance of Dara really keeps you  immersed in the book .  You want to know what happened to Dara as much as Nick does and are as stunned to discover the truth as she is.  I was so SHOCKED and never saw it coming.  Yet there is so much more to this book than the mystery of that fateful night.  Nick has to work her way through her dysfunctional parent issues, her love issues, and then find a way to move forward.  This is a book you let linger a moment before you rush off to your next read.
— Jody
Description
---
New York Times bestselling author Lauren Oliver delivers a raw and heart-pounding story, perfect for fans of E. Lockhart's We Were Liars or Gillian Flynn's Sharp Objects.
Dara and Nick used to be inseparable, but that was before the accident that left Dara's beautiful face scarred and the two sisters totally estranged.
When Dara vanishes on her birthday, Nick thinks Dara is just playing around. But another girl, nine-year-old Madeline Snow, has vanished, too, and Nick becomes increasingly convinced that the two disappearances are linked.
Now, Nick has to find her sister, before it's too late.
In this edgy and compelling novel, Lauren Oliver creates a world of intrigue, loss, and suspicion as two sisters search to find themselves, and each other.
Praise For…
---
"Alarming and uplifting, a rare psychological thriller that has a kind heart at its center. Read it with all the lights on."

"Perfect for readers who devoured We Were Liars, it's the sort of novel that readers will race to finish, then return to the beginning to marvel at how it was constructed—and at everything they missed."

"Oliver's characterizations and background stories are well-developed and compulsively readable. Recommend to teens looking for a well-written work with a juicy ending. They will not be disappointed."

"Best-selling Oliver weaves a taut mystery interspersed with blog posts about Madeline's disappearance, and the story is made all the more compelling by Nick and Dara's close but troubling relationship, marked by both love and intense jealousy."

PRAISE FOR BEFORE I FALL: "Oliver's debut novel is raw, emotional, and, at times, beautiful....readers will love Samantha best as she hurtles toward an end as brave as it is heartbreaking."

PRAISE FOR BEFORE I FALL: "Samantha's attempts to save her life and right the wrongs she has caused are precisely what will draw readers into this complex story and keep them turning pages until Sam succeeds in living her last day the right way."

PRAISE FOR BEFORE I FALL: "Oliver, in a pitch-perfect teen voice, explores the power we have to affect the people around us in this intensely believable first novel...This is a compelling book with a powerful message and should not be missed."

PRAISE FOR PANIC: "Oliver makes a white-knuckle return to realism that will have readers up until the wee hours."

PRAISE FOR PANIC: "Oliver's novel is a wholly believable and compulsively readable tale of friendship, loyalty, survival, and courage."

PRAISE FOR PANIC: "Retains all the tension and excitement of Oliver's Delirium…A work with sharp corners, dark places, and considerable humanity."