Flat Stanley's Worldwide Adventures #11: Framed in France (Paperback)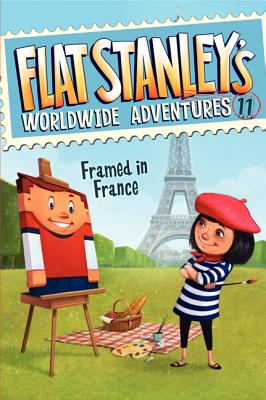 Description
---
Flat Stanley is taking over the world, one city at a time! In this electrifying eleventh installment in the renowned Flat Stanley's Worldwide Adventures chapter book series, the Lambchop family is headed to the city of light, Paris!
Stanley Lambchop is headed to France to the most famous museum in Paris—the Louvre. Readers will experience the city of light, soar to the top of the Eiffel Tower, and solve a mystery when one of the most famous paintings in history is stolen. And when Stanley Lambchop is asked to help catch an art thief, he can't help but be excited! 
Posing as a painting in the Louvre on a wall across from the famous Mona Lisa?—c'est magnifique! However, Stanley soon grows bored—until he meets Etoile, an art student who shows him around Paris. But when Stanley goes back to the museum, he realizes that the Mona Lisa looks . . . different. It's been switched for a fake! Will Stanley be able to nab the thief before he or she strikes again?

Featuring fun, fascinating facts about Paris, this book is perfect for Common Core State Standards, like multicultural adventure, plot and character development story elements, and compare and contrast. Don't miss any of Flat Stanley's worldwide adventures!
About the Author
---
Jeff Brown created the beloved character of Flat Stanley as a bedtime story for his sons. He has written other outrageous books about the Lambchop family, including Flat Stanley, Stanley and the Magic Lamp, Invisible Stanley, Stanley's Christmas Adventure, Stanley in Space, and Stanley, Flat Again! You can learn more about Jeff Brown and Flat Stanley at www.flatstanleybooks.com.
Macky Pamintuan is an accomplished artist who lives in the Philippines with his wife, Aymone; their baby girl, Alison; and a West Highland white terrier named Winter.