Masque of the Red Death (Hardcover)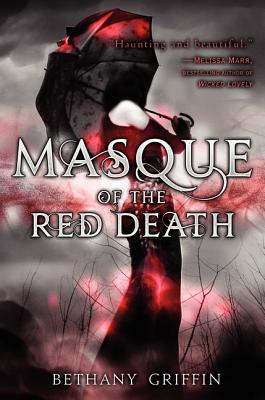 $19.79
Usually Ships in 1-5 Days
Staff Reviews
---
Bethany Griffin's debut novel Masque of the Red Death  is an amazing start to a new paranormal series.  Araby lives in a dying world that has been overcome by a plague.  The only way she and the few others remaining have stayed alive is by avoiding human contact and always wearing their masks to filter the air they breath.  To make things worse, her parents barely realize she exists.  Since the death of her brother, Araby's father has consumed himself with his inventions and her mother just doesn't really notice her.  But things are changing, Araby's best friend's brother has return to the city and has asked her for help.  She has met someone who actually makes her feel a small spark of hope in her world of guilt and despair.
Melissa Marr described this book as "haunting and beautiful", and I think that is the perfect description for this book.  You can really feel the ghosts that haunt Araby in her voice.  She starts  feeling so much despair in her life that the emotions just resonate with you long after you have put the book down.  However, I am excited to see how Griffin develops Araby.  She has already started to change from someone seeking to escape to someone who wants to fight.  I have a feeling that she is going to emerge from the series as a very strong individual.  Typically I am not a fan of the love triangles that are such a constant in young adult literature, but I am really intrigued by this one.  Griffin has kept us guessing as to which side each of the boys are on, making it a very compelling side story-line.  This is an excellent dark tale with steampunk elements that is sure to win over readers and having them anxiously awaiting book two.
— Jody
kids Kids Indie Next List
---
"Araby Worth is not your typical teenage girl: she lives in a world ravaged by the contagion, blames herself for the death of her twin brother, and vows never to experience anything he will not have the chance to experience. Her father is the scientist that saved the city -- or, at least those who can afford it -- by inventing a mask that filters out the contagion. Araby spends her days trying to find the bliss that comes from being completely numb to reality, until Will and Elliott enter her life. They turn her world upside down and force her to rethink everything she thinks she knows. But who can she really trust?"
— Shawn Bridges, Literary Lion, Stephenville, TX
Description
---
Everything is in ruins.
A devastating plague has decimated the population, and those who are left live in fear of catching it as the city crumbles around them.
So what does Araby Worth have to live for?
Nights in the Debauchery Club, beautiful dresses, glittery makeup . . . and tantalizing ways to forget it all.
But in the depths of the club—in the depths of her own despair—Araby will find more than oblivion. She will find Will, the terribly handsome proprietor of the club, and Elliott, the wickedly smart aristocrat. Neither is what he seems. Both have secrets. Everyone does.
And Araby may find not just something to live for, but something to fight for—no matter what it costs her.
About the Author
---
Bethany Griffin is the author of Masque of the Red Death. She is a high school English teacher who prides herself on attracting creative misfits to elective classes like Young Adult Literature, Creative Writing, and Speculative Literature. She lives with her family in Kentucky.
Praise For…
---
"Haunting and beautiful, disturbing and thoughtful, this is a book you'll be thinking about well after the last page is turned."
— Melissa Marr, New York Times Bestselling Author of Wicked Lovely

"Luscious, sultry and lingeringly tragic, this story has my heart. I can't stop thinking about this tale of a broken world held together by corsets and clock gears. Araby's voice stays with me even now, making me wary of the air I breathe."
— Lauren Destefano, author of WITHER

"Bethany Griffin's Masque of the Red Death is gorgeous, compelling, and achingly romantic."
— Suzanne Young, author of A NEED SO BEAUTIFUL