Partials (Partials Sequence #1) (Hardcover)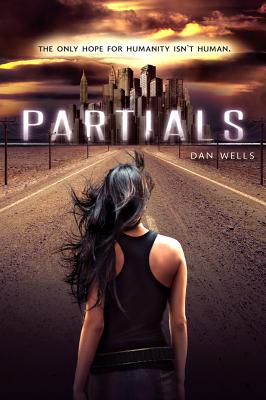 $19.79
Usually Ships in 1-5 Days
Other Books in Series
This is book number 1 in the Partials Sequence series.
Staff Reviews
---
Dan Wells' teen science fiction novel Partials is a gripping post-apocalyptic tale. Kira is part of the last of civilization. Her parents' generation built robots to end the Isolation wars, but the robots decided to turn on the humans shortly after the war ended. A deadly virus was released and all but a small number of humans perished. There has been peace from the Partials, so referred to since they are half machine and half human, but growing tension among the humans is still causing trouble. Even more upsetting, is the fact that the remaining people are unable to have surviving children. All babies born since the virus was released die within a few days since they are not immune to the disease. Kira is determined to find a cure. She knows that her species' only hope for survival is finding a way to have children, and hopefully that will also end the violent disputes within the humans' society. Thus she embarks on a crazy mission to cross into the Partials' territory and find a way to cure the virus.
What a great science fiction story (and I typically don't enjoy robot related books). Wells did an incredible job describing the New York city area after the destruction. It was so easy to envision the streets with rusted out cars and the like. His characters were courageous and independent thinking. I loved watching Kira stand up to the senators and doctors even though they are shooting her ideas down since she is a "plague baby" (too young to remember the Isolation war and the Partial attack). She has such a strong understanding of her convictions even though she is only 16. It was refreshing to read a young adult novel where the main character knows exactly what she wants to accomplish. Don't get me wrong, there is still plenty of coming of age and discovering her true self as the story continues for Kira. And I am sure book two will be filled with even more opportunities for Kira to grow and learn. If you are looking for an action filled story that isn't your typical teen read, grab Partials, you won't be disappointed. As a side note, I get to meet Dan Wells next week at the BEA-so excited! I hope I can get an autographed copy! Join me on Facebook June 15th where I will begin our teen discussion on this novel. Be sure to friend MostlyBooks TeenForum to join the fun.
— Jody
kids Kids Indie Next List
---
"Kira barely remembers the world before the RM virus decimated the human race. It is getting harder to see a better future, or any future at all, because the virus continues to kill all newborn infants. Kira's friend is pregnant and Kira is desperate to find a cure. She talks a couple of her friends into trying something drastic to find a cure, but instead they find so much more. This is a fast-paced novel with a big surprise, and readers will be clamoring for the sequel."
— Margaret Brennan Neville, The King's English, Salt Lake City, UT
Description
---
For fans of The Hunger Games, Battlestar Galactica, and Blade Runner comes the first book in the Partials Sequence, a fast-paced, action-packed, and riveting sci-fi teen series, by acclaimed author Dan Wells.
Humanity is all but extinguished after a war with Partials—engineered organic beings identical to humans—has decimated the population. Reduced to only tens of thousands by a weaponized virus to which only a fraction of humanity is immune, the survivors in North America have huddled together on Long Island. But sixteen-year-old Kira is determined to find a solution. As she tries desperately to save what is left of her race, she discovers that that the survival of both humans and Partials rests in her attempts to answer questions about the war's origin that she never knew to ask.
Playing on our curiosity of and fascination with the complete collapse of civilization, Partials is, at its heart, a story of survival, one that explores the individual narratives and complex relationships of those left behind, both humans and Partials alike—and of the way in which the concept of what is right and wrong in this world is greatly dependent on one's own point of view.
Supports the Common Core State Standards
About the Author
---
Dan Wells is the author of the Mirador series (Bluescreen, Ones and Zeroes, and Active Memory), as well as the New York Times bestselling Partials Sequence and the John Cleaver series—the first book of which, I Am Not a Serial Killer, has been made into a major motion picture. He has been nominated for the Campbell Award and has won a Hugo Award and three Parsec Awards for his podcast Writing Excuses. He plays a lot of games, reads a lot of books, and eats a lot of food, which is pretty much the ideal life he imagined for himself as a child. You can find out more online at www.thedanwells.com.
Praise For…
---
"A thrilling sci-fi adrenaline rush, with one of the most compelling and frightening visions of Earth's future I've seen yet. I couldn't put it down."
— Pittacus Lore, #1 New York Times bestselling author of I Am Number Four

"Wells creates a compelling, fantastically complex post-apocalyptic landscape, adding thought-provoking twists to a classic story of humanity creating its own doom...With broad cross-genre appeal and an engaging balance of thematic depth and rip-roaring action, this winner will leave readers clamoring for sequels."
— Bulletin of the Center for Children's Books

"A dark, wild ride."
— Kirkus Reviews

"Readers who enjoy headstrong feminist leads making their way . . . in the not-too-distant future will find plenty to like in Partials."
— Los Angeles Times

"Mr. Wells has recombined familiar dystopian elements, added original ones and thrown in dashes of dry wit to create a sprawling, action-packed medical thriller full of big ideas and exciting reversals."
— Wall Street Journal