Insurgent (Divergent Series #2) (Hardcover)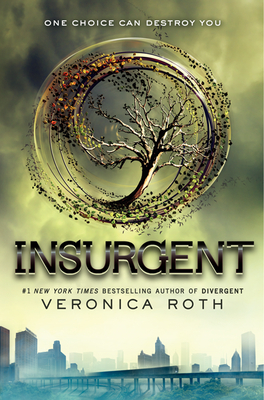 $17.99
Usually Ships in 1-5 Days
Staff Reviews
---
Wow! Veronica Roth takes us on an incredible roller coaster of ride in Insurgent, book two in the Divergent series.  Tris should be celebrating with her faction after making it through the initiations, but instead she is trying to overcome the tremendous amount of grief and guilt she has after the terrible Abnegation genocide. A war has been building and Erudite has forced everyone's hand to decide which side they are fighting for and frankly Tris isn't sure if either side is right. All that she knows is that she must uncover what her parents were desperately trying to hide, so much so that they gave their lives to protect the secret.
This book was non-stop action and so hard to put down. Divergent did a great job of introducing the characters and how their world is, but Insurgent takes you so much further into the politics and different factions.  Roth did an amazing job of drawing you right in to this dystopian world from the very first sentence, and yes, you will be running out to get book three, Allegiant.  Roth makes complex characters that are so engaging and they leave you wanting to know more.  Tris is very much a reluctant hero who genuinely wants to do what is best for everyone; how can you not cheer that on?  I really liked that she makes hard decisions not because it will win her popularity but because it is the right thing to do.  In fact, often her decisions make her friends very upset.  It was refreshing to see her and Four struggle to keep their relationship together.  It felt very realistic in that their opinions often differed, especially in a world that is slowly crumbling in on itself.  I really liked Divergent, but I loved Insurgent. It was unique, well written, and suspenseful.
— Jody
Summer 2012 Kids' Next List
---
"Picking up where Divergent ended, this sequel gives readers a more detailed glimpse into the other factions, as Tris and Four seek refuge. Still in shock from killing her own friend and losing her parents, Tris begins to doubt herself, especially after someone close to her turns out to be a traitor. As war becomes inevitable, Tris has to decide whether or not to embrace her Divergence. The breakneck excitement, action, and romance, along with a shocking ending, will have you talking about this book for months!"
— Joanne R. Fritz, Chester County Book & Music Company, West Chester, PA
Description
---
One choice can destroy you. Veronica Roth's second #1 New York Times bestseller continues the dystopian thrill ride that began in Divergent.
A hit with both teen and adult readers, Insurgent is the action-packed, emotional adventure that inspired the major motion picture starring Shailene Woodley, Theo James, Ansel Elgort, and Octavia Spencer.
As war surges in the factions of dystopian Chicago all around her, Tris attempts to save those she loves—and herself—while grappling with haunting questions of grief and forgiveness, identity and loyalty, politics and love.
And don't miss The Fates Divide, Veronica Roth's powerful sequel to the bestselling Carve the Mark!
About the Author
---
Veronica Roth is the #1 New York Times bestselling author of Divergent, Insurgent, Allegiant, Four: A Divergent Collection, and Carve the Mark. Ms. Roth and her husband live in Chicago. You can visit her online at www.veronicarothbooks.com.
Praise For…
---
"The next big thing."
— Rolling Stone

"Roth knows how to write. The novel's love story, intricate plot, and unforgettable setting work in concert to deliver a novel that will rivet fans of the first book."
— Publishers Weekly

"In this addictive sequel to the acclaimed Divergent,a bleak post-apocalyptic Chicago collapses into all-out civil war. Another spectacular cliffhanger. Anyone who read the first book was dying for this one months ago; they'll hardly be able to wait for the concluding volume."
— Kirkus Reviews

"Insurgent explores several critical themes, including the importance of family and the crippling power of grief at its loss. A very good read."
— School Library Journal