Sleep No More (Hardcover)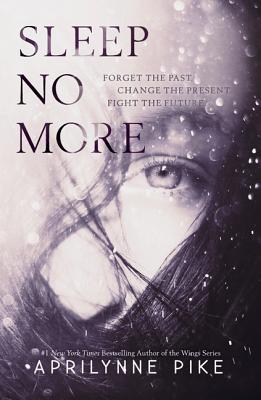 Email or call for price
Special Order - Subject to Availability
Staff Reviews
---
Sleep No More by Aprilynne Pike is a haunting story of one girl trying to take down a serial killer. Charlotte has a secret, she is an Oracle who has visions about the future.  Of course this sounds much cooler than it really is since she is not allowed to tell anyone, she can't change the future, or really even watch the vision.  In fact most of her life is spent fighting off her visions until she has one that she can't ignore.  It is so overwhelming that she watches it and sees the death of a classmate.  And then it happens again and again.  Before long she realizes that the murders are being committed by a serial killer and she can no longer sit back and watch the future happen, she needs to act.
I have read several of Aprilynne Pike's novels and I have to say this is one of my favorites.  It was much edgier and darker than her other YA novels and I found myself picking it up every spare moment.  I had to know who the killer was and how Charlotte was going to stop the murders.  I found Pike's story to be fresh and original.  I like that the Oracles are not supposed to use their gifts.  I felt like this gave a whole new perspective to what we thought we knew about Oracles .  I am completely intrigued by the Sisters of Delphi and all of the Oracles powers.  I feel like her aunt and the Sisters are hiding something big.  I love that Charlotte decided to experiment with her gift.  You could say her defiance was typical teen rebellion, but I think Charlotte is much more thoughtful than that and is looking for the best use of her gift. I am really anxious to keep reading this series.  I feel like we have just touched on Charlotte's true strength.  Book two,  Sleep of Death, is out only as an eBook edition (including KOBO ), although I am hoping it comes out as hardback so I can get it signed someday.
— Jody
Description
---
The blockbuster film Inception meets Lisa McMann's Wake trilogy in this dark paranormal thriller from #1 New York Times bestselling author Aprilynne Pike. This supernatural young adult novel is perfect for fans of Kelley Armstrong, Alyson Noël, Richelle Mead, and Kimberly Derting.
Charlotte Westing has a gift. She is an Oracle and has the ability to tell the future. But it doesn't do her much good. Instead of using their miraculous power, modern day Oracles are told to fight their visions––to refrain from interfering. And Charlotte knows the price of breaking the rules. She sees it every day in her wheelchair-bound mother and the absence of her father. But when a premonition of a classmate's death is too strong for her to ignore, Charlotte is forced to make an impossible decision: continue following the rules or risk everything—even her sanity—to stop the serial killer who is stalking her town.
About the Author
---
Aprilynne Pike has been spinning stories since she was a child with a hyperactive imagination. She completed her BA in creative writing at the age of twenty at Lewis-Clark State College in Lewiston, Idaho. Aprilynne currently lives with her husband and children in Arizona.
Praise For…
---
"Sleep No More was both imaginative and exciting—a mixture of a classical fantasy and a contemporary thriller. I enjoyed it immensely."
— Brandon Sanderson, #1 New York Times bestselling author of Steelheart

"Sleep No More is a supernatural thriller with tight pacing, brilliant world-building, and a fascinating heroine with an all-too-human mix of frailty and power. Twisty and mystical and satisfying. I couldn't put it down."
— Dan Wells, author of Partials

"Full of gripping tension."
— Kirkus Reviews

"There's plenty of action, gore, and romance in this quick-paced read that will appeal to Pike's many fans."
— ALA Booklist

"Pike's newest novel is a thrilling paranormal mystery with a hint of romance. Teen girls, fans of Pike's previous novels and those who are just discovering her will enjoy this unique, quick read."
— School Library Journal

"Adrenaline junkies and fantasy lovers should both be satisfied with the story, the characters, and the exciting conclusion."
— Voice of Youth Advocates (VOYA)

PRAISE FOR LIFE AFTER THEFT: "In a refreshing departure from her plant-based paranormal-romance series, Pike develops the pleasantly fractious relationship between Jeff and Kimberlee in Jeff's earthy, humorous first-person. This brisk, down-to-earth thriller should appeal equally to male and female readers."
— Kirkus Reviews

"A whirlwind adventure full of secrets, lies, unlikely friendships, and romance."
— School Library Journal

"Jeff's journey to real empathy takes on issues crucial and relevant to teens: the price of popularity, the importance of being true to one's beliefs, and the need to stand up for others."
— ALA Booklist

PRAISE FOR THE WINGS SERIES: "Wings is a remarkable debut; the ingenuity of the mythology is matched only by the startling loveliness with which the story unfolds."
— Stephenie Meyer, bestselling author of the Twilight Saga

"Spells is brilliant and lovely. Aprilynne Pike's talent just continues to bloom and I am almost afraid to see how awesome her next book will be."
— Carrie Jones, New York Times bestselling author of the Need series

"Who knew faeries could be this cool? Illusions has it all. It's fascinating, rich, and romantic, and weaves a great new tapestry of thrilling fantasy."
— Lisa McMann, New York Times bestselling author of the Wake series

"The greatest part: the Wings series reaches the perfect ending. The worst part: it has to end!"
— Claudia Gray, New York Times bestselling author of the Evernight series

"Mixing a little bit of Harry Potter and a lot of Twilight, Pike has hit on a winning combination. Yet it is her own graceful take on life inside Avalon that adds a shimmering patina sure to enthrall readers"
— Booklist (starred review)

"Silky narration, delicious escapism."
— Kirkus Reviews