The Last Little Blue Envelope (13 Little Blue Envelopes #2) (Hardcover)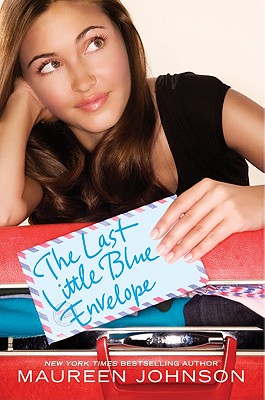 $18.69
Email or call for price.
Other Books in Series
This is book number 2 in the 13 Little Blue Envelopes series.
Staff Reviews
---
Maureen Johnson's novel The Last Little Blue Envelope is such a wonderful conclusion to 13 Little Blue Envelopes.  When we left Ginny on the first book,  her backpack with the final envelope had been stolen and she was left not knowing the end to her aunt's adventure.  But then out of the blue, she gets a mysterious email from a boy in London who found her backpack with the envelope.  Oliver has agreed to give Ginny  the bag back on the condition that she takes him with her to find the artwork described in the letter and split the profits with him.  Ginny doesn't love this idea, but she has to finish the adventure and reluctantly agrees to his terms.  She also decides to bring along Keith and his girlfriend, Ellis.  Now the four take off to travel around in search of the three paintings and to finish the adventure that Ginny's aunt had wanted her to take.
It was so much fun to watch Ginny grow-up and go on another trip.  I also loved that we didn't get much information on Oliver until the very end of the story.  His back-story was so nicely hidden and then revealed that it just made the end that much better.  This is such a nice series for young teens with the perfect amount of drama, but not overly mature for the younger reader.
— Sherry
Description
---
Ginny Blackstone thought that the biggest adventure of her life was behind her. She spent last summer traveling around Europe, following the tasks her aunt Peg laid out in a series of letters before she died. When someone stole Ginny's backpack—and the last little blue envelope inside—she resigned herself to never knowing how it was supposed to end.
Months later, a mysterious boy contacts Ginny from London, saying he's found her bag. Finally, Ginny can finish what she started. But instead of ending her journey, the last letter starts a new adventure—one filled with old friends, new loves, and once-in-a-lifetime experiences. Ginny finds she must hold on to her wits . . . and her heart. This time, there are no instructions.
About the Author
---
Maureen Johnson is the bestselling author of several novels, including 13 Little Blue Envelopes, the Truly Devious series, the Suite Scarlett series, and the Shades of London series. She has also written collaborative works such as Let It Snow with John Green and Lauren Myracle and The Bane Chronicles with Cassandra Clare and Sarah Rees Brennan. Maureen lives in New York and online on Twitter @maureenjohnson or at www.maureenjohnsonbooks.com.